CCS First home basketball game tonight! 7th and 8th Girls against Presque Isle. You can watch from anywhere with our live streaming of the game at
https://www.youtube.com/channel/UCQWxOkGqbj58sCZ1HrKq-yw
or go to RSU 39 home page, click on Caribou Community School and then click the CCS Athletics Youtube link.

Dear Parents/Guardians of RSU 39 5-11 year old students, RSU 39 nurses, in collaboration with Cary Medical Center, will be offering Pfizer COVID-19 vaccine to students ages 5-11 years. The first vaccine will be given on November 19, 2021 and the second vaccine will be given on December 10, 2021 at Caribou Community School. If you would like your child to receive the COVID-19 vaccine at school, please complete the attached form and return to school with your child, or email to
nurses@rsu39.org
by November 15, 2021.  The vaccine will only be given to students with a signed permission slip and is completely voluntary. Please do not hesitate to call our office if you have any questions or concerns. Sincerely, Eastern Aroostook RSU 39 School Nurses

Pediatricians Share- what parents need to know about the Covid-19 vaccination for their children. Link information on flyer.
CCS picture retakes have been rescheduled for Friday, November 12th.
CARIBOU COMMUNITY SCHOOL Book Fair Nov. 15 - Nov. 28 Our Book Fair is online and helps our students discover new books, favorite characters, and more! Every purchase earns our school rewards for much needed resources. Plus, shipping is free on book-only purchases over $25. The link to order is:
https://www.scholastic.com/bf/cariboucommunityschool
Thank you for instilling a love of reading and supporting our Book Fair!
CCS picture retakes are being postponed. More information will be sent out once a new date is scheduled. Thank you
Caribou Community School picture retake day is tomorrow, Thursday, 11/4/21.
CCS Menu change for Wednesday, November 3rd Lunch will now be hot dogs, baked beans, hash browns and fruit.
CCS Menu change for Monday, November 1st- Lunch will now be breakfast sandwiches
The gym at the Caribou Rec Center will be closed on Monday, November 1st due to Election set-up and Tuesday, November 2nd due to the Election. Thank you
CCS Basketball Schedule for Friday, October 22, 2021 6-8th Grade Girls-3:00-4:30PM 8th Grade Boys-4:30-6:00PM 6-7th Grade Boys- No Practice/Tryout
Caribou Community School Picture Retake Day is scheduled for Thursday, November 4th. You can order online at mylifetouch.com with the Picture Day ID: EVTFCPXNB.
Basketball Tryout Schedule for Monday 10/18/21 3:00PM-4:30PM-8th Grade Boys 4:30PM-6:00PM-6th-8th Grade Girls 6:00PM-7:30PM-6th & 7th Grade Boys All tryouts will be held at CCS in the main gym. Reminder that a physical must be on file with the Nurse's Office to tryout.
The Caribou Rec Center has notified CCS that there will be no open gym and the game room is closed for today, Thursday 10/14 and tomorrow, Friday, 10/15.
CCS Basketball tryouts for grades 6-8 will be held 10/18, 10/19, 10/20. All students that want to participate must have a physical on file with the nurses office. More information about time and place will follow.
Caribou Community School soccer practices for both girls and boys teams has been canceled for tonight, 10/01/21.
Caribou Community School cross country has been canceled for tonight, 9/30/21.
Caribou Community School- return to in-person learning

With the recent cases related to Caribou Community School and the large number of quarantining students, and the absence of essential staff members, Caribou Community School will be in a RED Model effective Thursday, September 16, 2021 through Friday, September 24, 2021.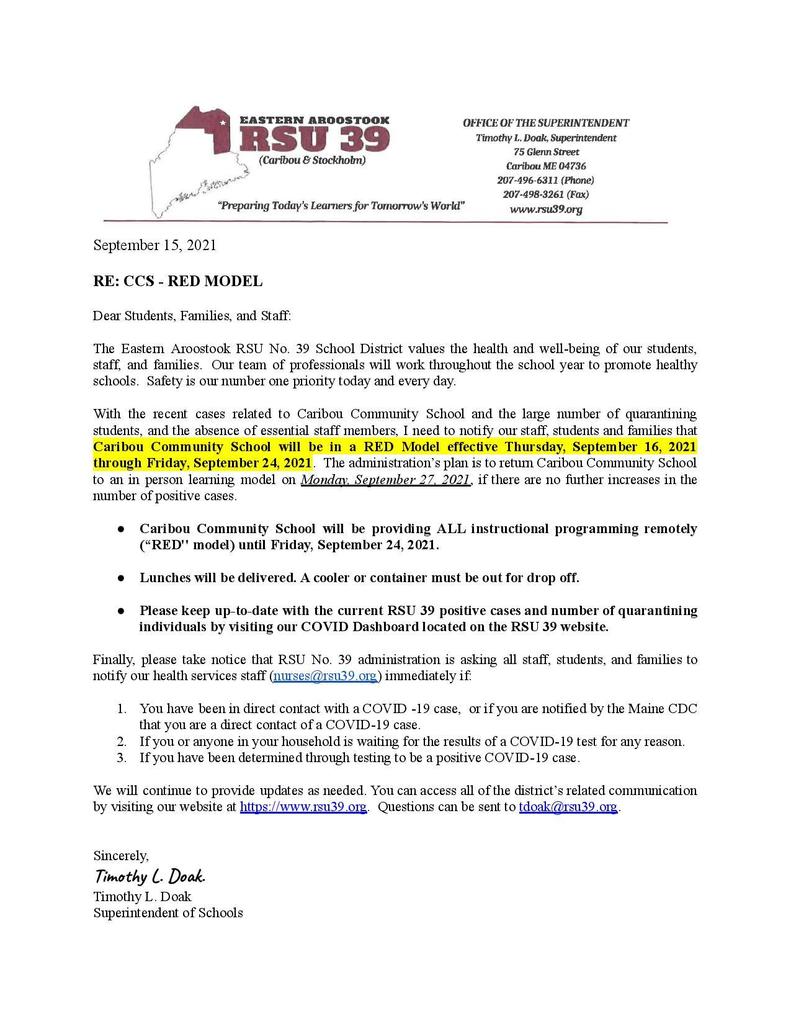 Caribou Community School Cross Country meet in Woodland that was scheduled for today has been canceled.