Due to the early release days scheduled for Thursday and Friday-CCS lunches will be: Thursday 3/23-Turkey and Cheese Wrap Friday 3/24-sunbutter and jelly with string cheese
CCS Lunch Change Lunch on Wednesday 3/15/23 will now be chicken tacos.
Correction-On the letter that was just posted, it says the last day of school is June 14th. Currently, our last day of school is June 15th. Sorry for any confusion.
We will have 2 early release days in March. See the letter from Dr. Caron.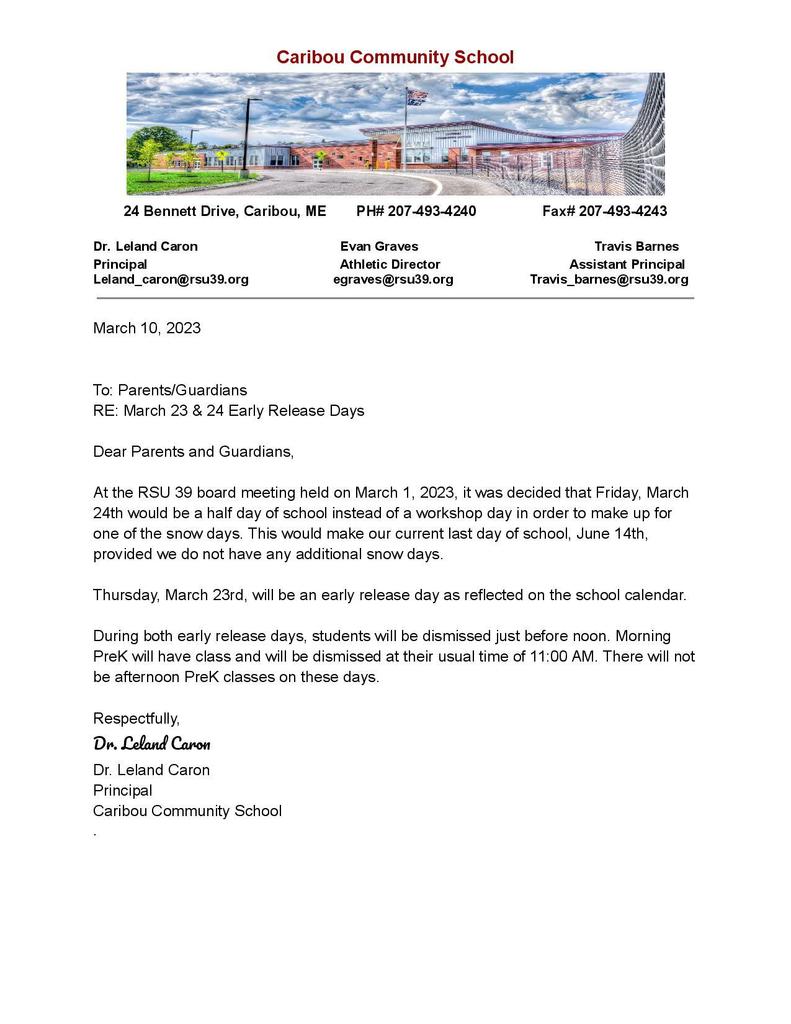 Ice Skating through the Caribou Rec Department has been canceled for today and the remainder of the season due to warm conditions.
CCS breakfast menu change for Thursday, 3/9/23- Breakfast will now be muffins instead of bagels.
Our Read Across America readathon is in full swing! Thank you to all who have donated. Our campaign ends on March 13th, there is still time to support our students. Click the link below to donate and please share with family and friends. Read Across America Readathon or at
https://rsu39caribou.beanstack.org/fundraiser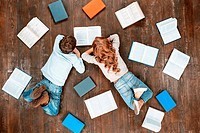 The Read Across America readathon begins today! We're challenging all our students to share their donation page widely and read at least 20 minutes a day to help us reach our goal of $3000.00. All donations from today until March 13, 2023, will help us fund reading incentives for students and literacy activities and events organized by the learning commons staff. It's time to start reading and raising NOW! Visit our Beanstack site
https://rsu39caribou.beanstack.org/fundraiser
and click "View My Donation Page." Share your student's donation page with your friends, family, and social networks. Log all your at-home reading in Beanstack. Watch the badges, encouraging messages, and donations pile up! Students can earn one chance to win a $10 gift card to local businesses. One chance for every 10 donations they receive. We are also gifting movie theatre tickets to the homeroom that reads the most minutes from March 2 - March 13. We know we can reach $3,000.00 with your help. Please start reading, sharing, and donating today! Happy reading! Your friends at Caribou Community School Learning Commons
CCS Lunch Change for Tuesday, February 28th: Lunch will now be sun butter and jelly sandwiches with string cheese
CCS Wrestling starts on Monday, February 27th. Practices are from 3 PM-5 PM Monday through Friday at CCS. Meet the coach at 4:30 on Monday, February 27th.

Due to inclement weather all schools in RSU 39 are closed today, Friday, February 17th, 2023.
CCS change in the lunch menu for Thursday, 2/16/23 and Friday, 2/17/23: Thursday, 2/16 will now be chicken nuggets Friday, 2/17 will now be sun butter and jelly with string cheese.
Dear Parents and Guardians Today a survey is being sent home with your child regarding remote learning days. We ask that you take a moment to complete this survey and return it with your child to school tomorrow or as soon as possible so we can gather the necessary information. Thank you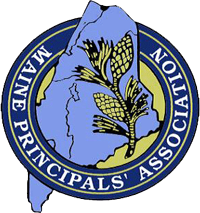 CCS Lunch Changes: Friday, 1/27/23- we will be having Pepperoni Pizza instead of sloppy Joes. February the 2nd we will be changing lunch from a hot chicken sandwich to Cheesy Chicken Casserole.
CCS Winter sports awards for Basketball and Cheerleading. Monday 1/23/23 in the CCS cafeteria 6:00PM-Girls Basketball 6:30PM- Boys Basketball 7:00PM- Cheering
CCS lunch for Thursday, 1/12 and Friday 1/13 will be switched.
CCS Breakfast change for Monday, 1/9/23- Breakfast will be a strawberry bar with string cheese
Nordic Ski Practice-Today from 3:15-5:00 at CCS in the gym.
From Jan. 3 to Jan. 31, Caribou Community School is participating in "All the Feels," a Winter Reading Challenge sponsored by Beanstack. We challenge our school community to read at least 200,000 minutes during the month and keep track of their reading on our Beanstack site at
https://rsu39caribou.beanstack.org
or on the Beanstack mobile app. Please encourage your students to read and track their minutes. Teachers can help students log in and track minutes at school. Post images on social media using the following hashtags #WinterRead2023 #AlltheFeels to help our school win a prize. Thousands of other libraries and schools across the nation are joining in too, for a chance at winning cash prizes for their community. Winners will be determined by Beanstack based on many factors, including: Active participation: Based on the percentage of enrolled readers who actively participate in your challenge. Logging stats: How many minutes, books, and activities do your readers log? Community sharing: We appreciate you spreading the love of reading with your school community—virtually and at school or the library! Posting about #WinterRead2023 and #AlltheFeels on social media will give you a boost! Happy reading, Caribou Community School!